96 Degrees, North Beach
If you're looking for a cafe close to the beach, then 96 Degrees in North Beach might be for you. This cosy cafe features an enclosed courtyard area with toys to keep little ones entertained.
96 Degrees is a small, unassuming cafe to look at it from the outside. However, inside is bright and cheerful. There are comfortable couches and bench seating along the walls, in addition to tables and chairs. There's a shelf with coffee beans and various coffee related items for sale. Similarly there's outside seating at the front. Handy if you visit with the family dog.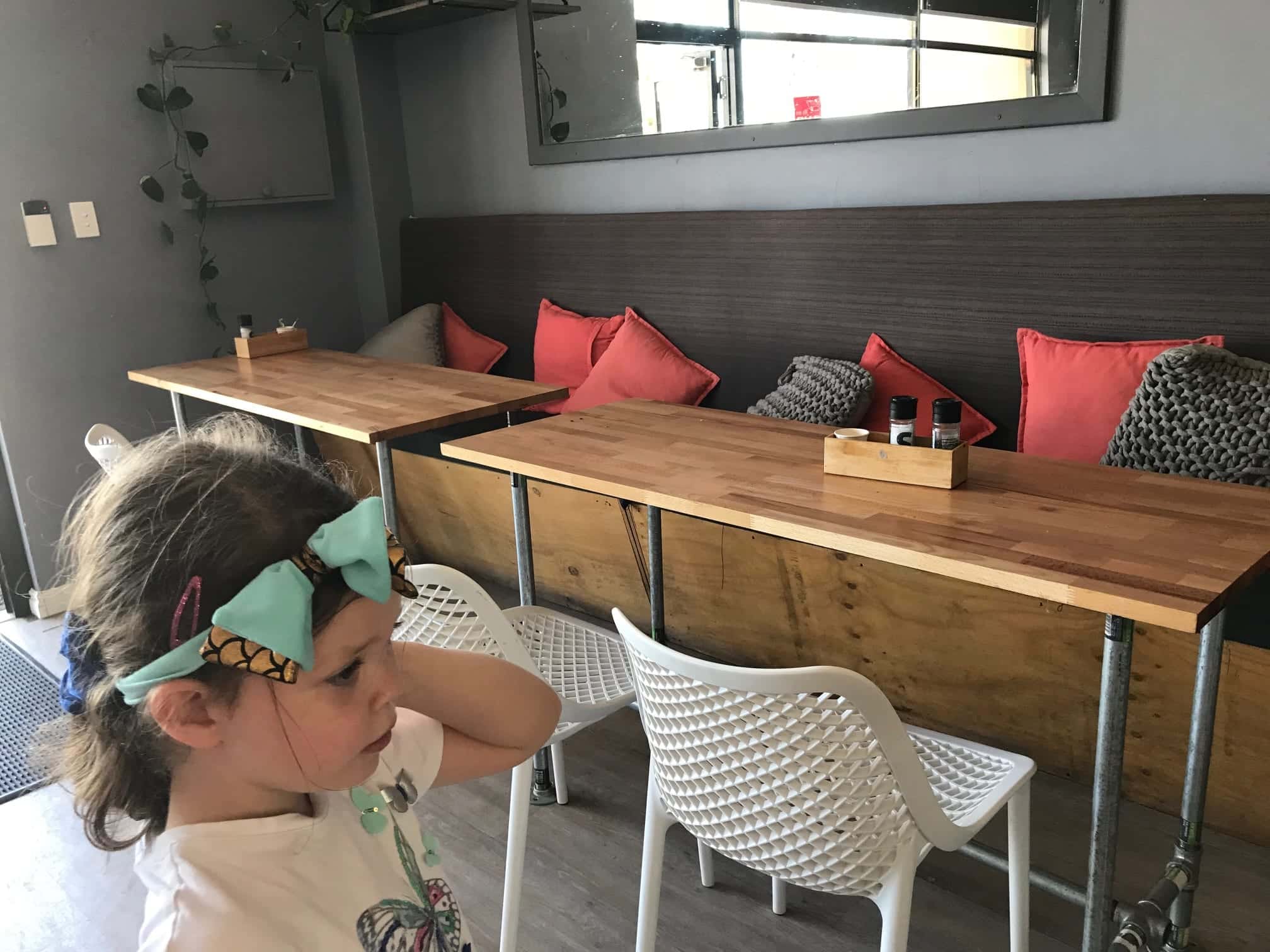 Hidden at the rear is a lovely enclosed courtyard. This has a box of assorted toys, a toddler activity table and a ride-on car that's perfect for keeping small children busy. This area is shaded by trees and the high rear fence, and also features shade umbrellas. As well as chairs there's long bench seating along the wall. The concrete has been covered over with artificial lawn, so little ones can play on the ground without worrying about hot ground or bruises from tumbles.
Both indoor and outdoor seating has plenty of space to bring a pram or stroller. We also found a stack of high chairs outside for little diners.
As we were stopping in for morning tea, Miss 5 picked a vanilla milkshake and a chocolate brownie, while I chose a latte and a bacon and egg muffin. The lovely accommodating waitstaff were happy to pop my latte into a takeaway cup just in case Miss 5 wanted to move on quickly.
Miss 5 loved her chocolatey brownie. It didn't last long! Her milkshake came with cream and covered in rainbow sprinkles. The only downside she said was slurping her drink and getting a mouthful of sprinkles. She was disappointed to learn we adults don't get sprinkles on our coffee generally!
Meanwhile, my coffee was excellent. Very smooth. My muffin was quite filling and I didn't need lunch when I got home.
In addition to a selection of delicious rolls, slices, muffins and salads, 96 Degrees offers an all-day breakfast option, lunch and a kids menu. The kids menu includes breakfast options such as eggs and bacon or pancakes, and lunch options such as a cheeseburger or served with fries and sauteed vegetables.
The toys in the courtyard at 96 Degrees kept Miss 5 busy for a good half an hour. She found a pirate ship, the ride-on car (which she's now too big for!), and a robot. Had she had her way, we would have stayed much longer so she could have explored the whole toy box. With the courtyard having only one exit point, into the cafe, it also feels like a safe space to hang out with your mum friends and your little tackers.
Located at 117C Flora Terrace, North Beach. Not to be confused with 96 Express on West Coast Drive.
96 Degrees is open 6am to 3pm Monday to Friday, and 6am to 2pm Saturday and Sunday.
96 Degrees is located a block back from the beach. Handy if you enjoy a splash in the water or a walk along the beach. The cafe is about 5 minutes from Methams Pool. Likewise, the cafe is close to the Mount Flora Museum, about a 2 minute drive away. Why not combine a visit to both?