8 Yolks café is shiny and new, opened for just a few weeks, the friendly brunch spot is a welcome addition to the Success and Cockburn area. Its right smack in the middle of suburbia, hiding behind a 7 Eleven, and it's a lovely spot for local families to brunch. The cafe doesn't have that industrial/rustic vibe like so many eateries do these days. The bright and sunny café has a fun colour scheme, incorporating a favourite brunch component – runny egg.
First up we order drinks – an almond flat white for me and a baby chino for Little Chef. He gobbled up the marshmallow before I could even take a photo – whoops!
8 Yolks is child friendly – there's highchairs, colouring in sheet and pencils, change facilities and even a small enclosed area outside for toddlers to play with toys. Oddly enough though, there isn't a kids menu! Smaller options for little ones might be found in the cabinet, where I spied some muffins and snack type foods.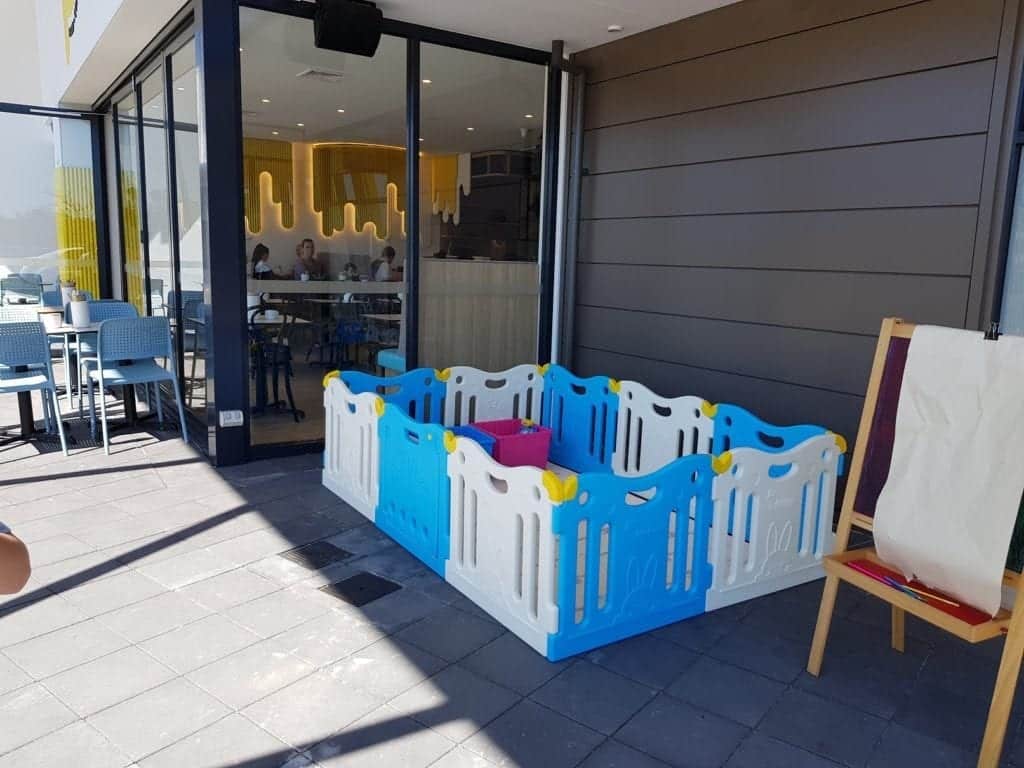 That said, nine year old Little Chef was delighted that he "HAD" to order the adult sized banana and nutella pancake ($17.5), Fluffy pancakes are topped with hazelnut crumble, banana, strawberries and finishes with a couple of generous scoops of vanilla bean ice cream. Of course he managed to polish the whole lot off! It would be fantastic to see a kids menu for younger kids though.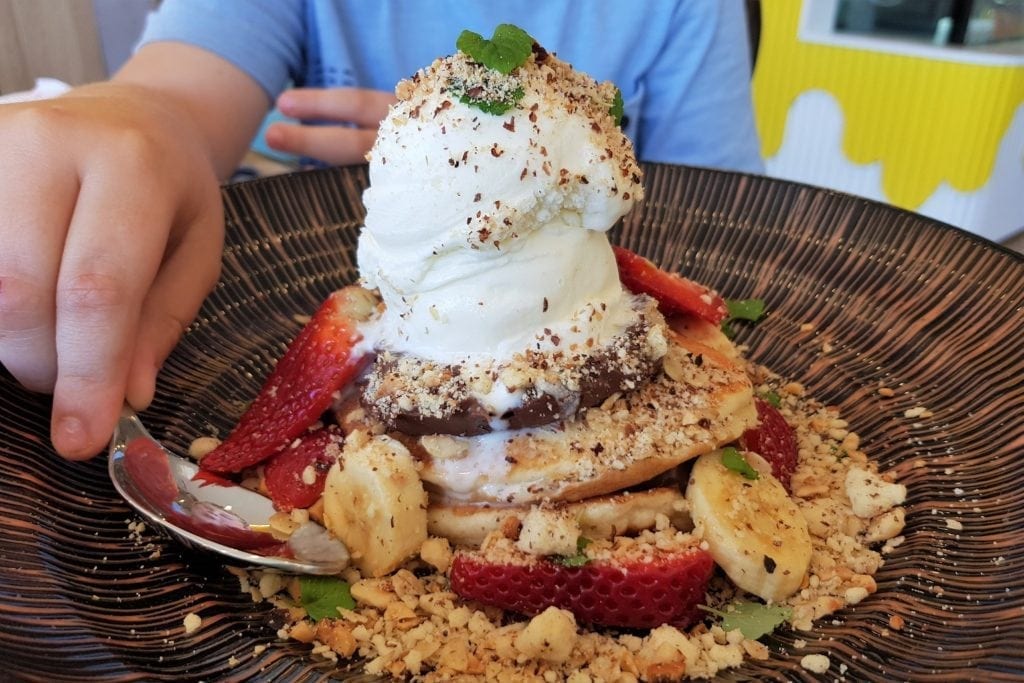 The menu is made up of all sort of al day brunch goodies. Staples like bircher muesli and eggs benny are joined by a few Asian style dishes, so you're sure to find something delicious. I enjoyed the Smokey BBQ Pulled Beef Benedict ($21). The tender Angus beef brisket is slow cooked for 14 hours. The tasty meat is topped with perfectly runny poached eggs and buttery hollandaise sauce. Great for mopping up with bread!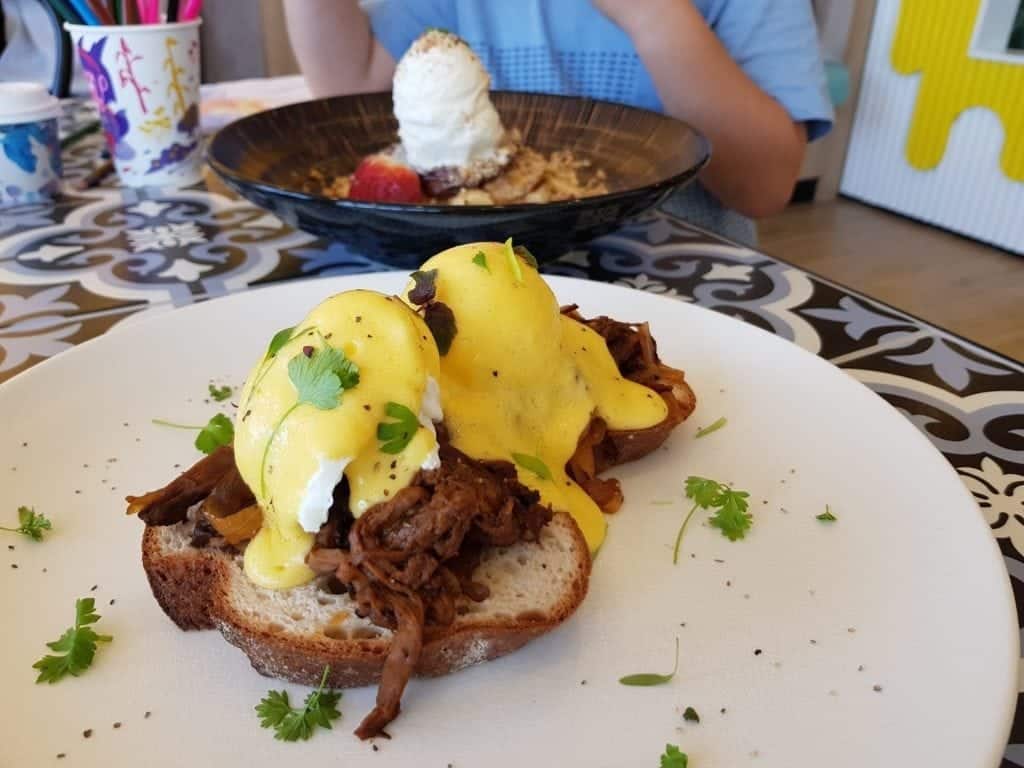 All in all, we both loved the relaxed atmosphere and yummy food at 8 Yolks. If I lived in the area I'd be totally stoked to have it as my local café.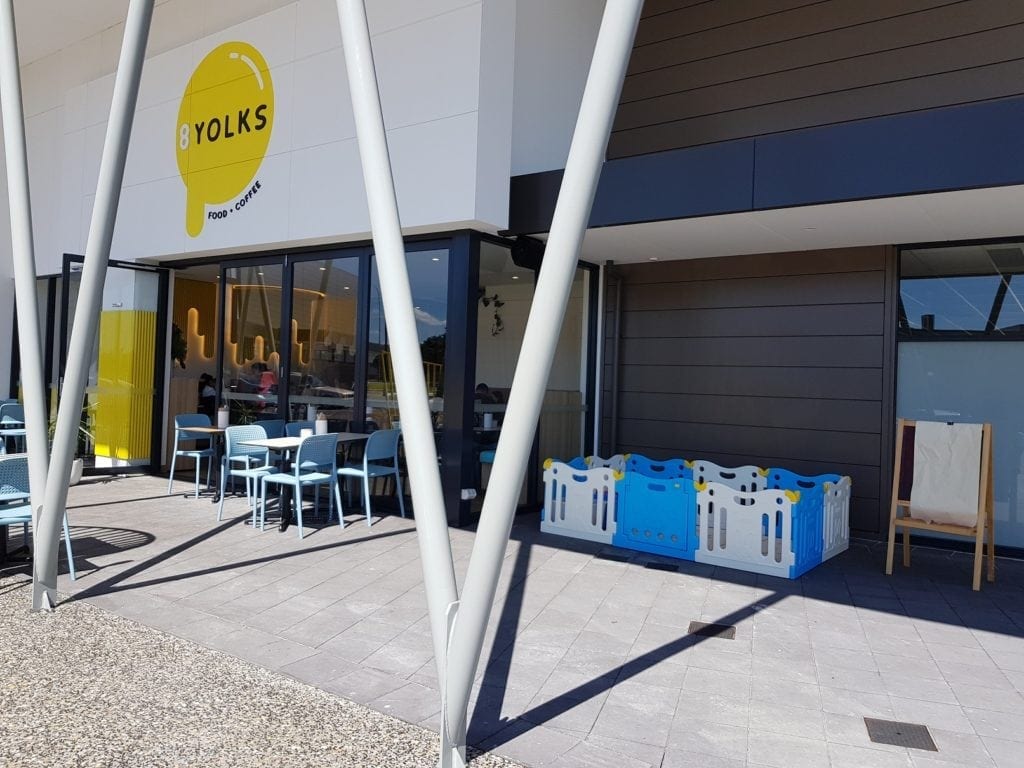 Info
8 Yolks is open 7 days
Find 8 Yolks at 660 Beeliar Drive, Success.
More details on 8 Yolks Café here.
Find more child friendly places to dine in Perth here.