If you're stuck indoors with kids for an extended period of time, be it for days of rainy/hot weather, illness or even a dreaded Corona virus quarantine, you may soon be tearing your hair out. As you run out of ideas to keep the kids occupied, the whole family may climb the walls with wails and whines of "I'm bored"! But it needn't be that way – there's tones of fun indoor activities for kids at home to entertain themselves with. Routine is also important to keep kids feeling safe and prepare them for returning to the school structure. Here's our suggestion on how you could plan your day: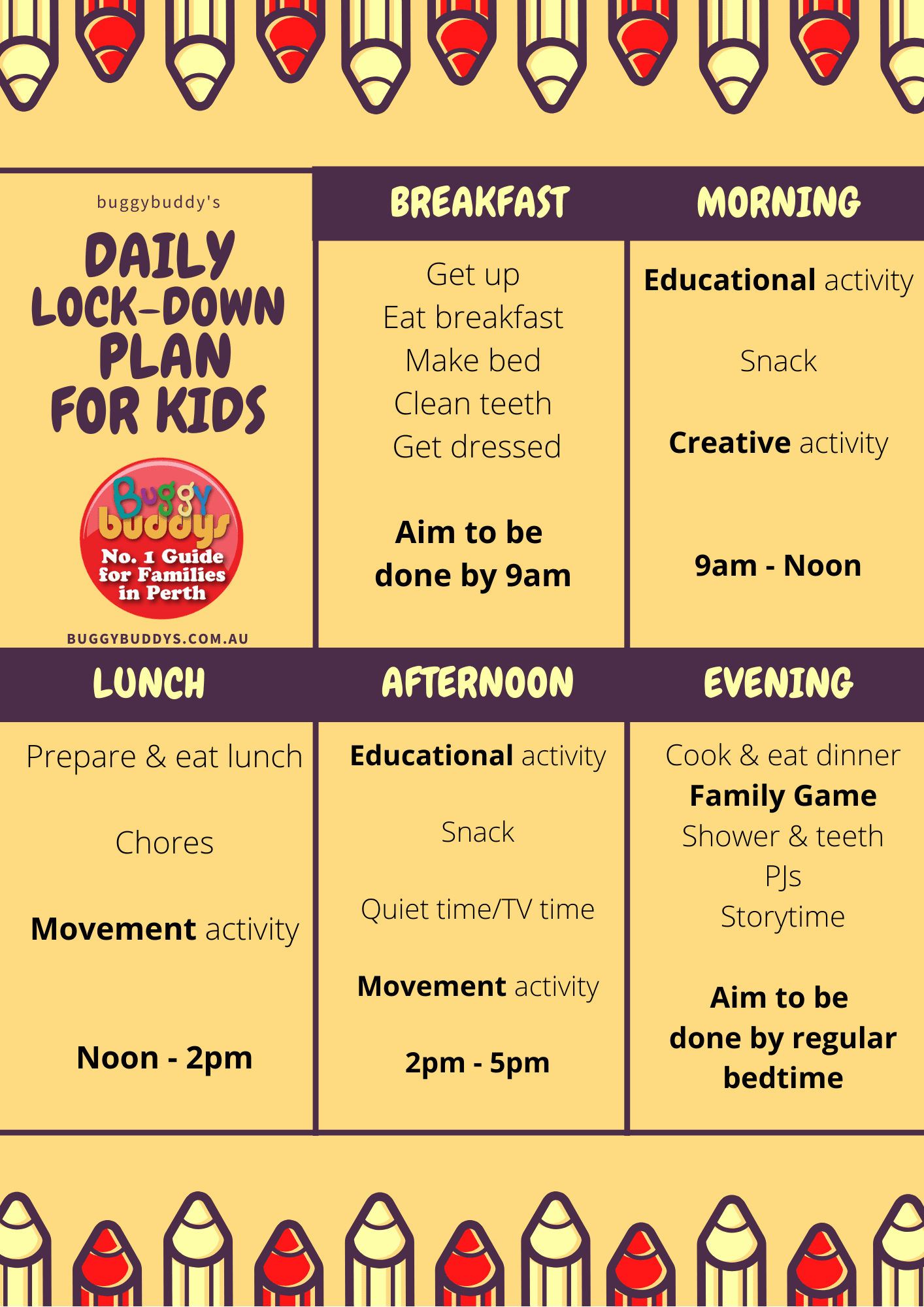 If we're ever in a lock-down situation (fingers crossed we're not), don't let the kids remember it as a scary and uncertain time, but a time they had lots of fun and quality time at home! Buggybuddys has you covered with a load of ideas to help the time pass quicker, in a fun and positive way:
Creative Indoor Activities for Kids at Home
Get arty! Raid the art supplies and create beautiful paintings and drawings with pencils, oil pastels paint and more. If you have lots of old magazines or off cuts of wrapping paper, rip some up and create mosaics or paper mâché creations.
For children with a wild imagination, they'll love to write a story book, complete with pictures.
Isolation isn't fun, but kids may like to create a card to cheer up a family member.
We all loved a Chatterbox – and kids still do! If you're not sure how to make these – there's plenty of You Tube tutorials that do.
And if you've mastered the Chatterbox – have a go at origami!
If you don't have a stack of playdough ready to go, don't worry! It's easy to make dough with supplies from your pantry. Cookie cutters are great for making shapes too.
Have a Puppet show! And if you don't have puppets? Make some with old socks – cos we all have a ton of odd socks laying around.
Educational Indoor Activities for Kids
Most kids have a bookshelf – get into it! Whether you're reading to your children or they're reading to you, or they love getting stuck into a chapter book on their own – stories are brilliant escapism. If you're after a new book to read, many Perth libraries lend e-books and e-magazines online.
With Scholastic Learn at Home, kids can work through a 20-day program at their own pace, depending on their year level. The FREE programs are fun and educational, taking kids on virtual excursions, and meeting best selling authors.
Studyladder is an online tool that most schools use for learning maths, English and science through fun activities. The basic level is free to use.
Twinkl is a website for teacher-created planning and assessment materials and teaching resources aligned to all subjects of the Australian Curriculum. A small membership charge applies.
typing.com is a fee too for improving keyboard, digital literacy, and coding skills.
Mystery Science has online science lessons for kindy to year five age groups.
Storyline online is a brilliant tool! Famous actors like Annette Benning, Chris O'Dowd, Rami Malek, Chris Pine, Oprah Winfrey and more read children's stories, along with animations.
Art For Kids is a creative space of easy to follow art lessons – all you need is paper and something to draw with!
Encourage your child to start a diary. Particularly if we're in a lock-down situation, it may be worrying and scary for them, so putting their thoughts down on paper could really help – as well as practicing their handwriting!
Write a letter, poem or email to family or friends.
Fun Family Games

Have a family board game day – Monopoly, Scattegories, Trivial Pursuit, Scrabble, Pictionary – whatever! Board games bring out your competitive and creative side, they're always lots of fun.
Get chatting with verbal games, you know the type you'd play on a long car ride, like "Simon says" and ispy. Action games like charades help get the brain ticking, as do memory games like "I went to the shop and bought…".
Action Games are perfect for keeping active. Bop around to musical chairs, duck duck goose (if you have enough kids!), musical statues, hot potato (pass a ball or potato till the music stops – the person holding the hot potatoe is out), hide & seek … the possibilities are endless.
Go old school with paper games – all you need is a piece of paper and a pencil or pen. Start simple with naughts and crosses or dots and boxes. Hangman is a great spelling game for older kids.
You'll most likely have a deck of cards laying around. Card Games from snap to Uno are lots of fun for all ages. Solitaire is a great card game to play solo too.
Jigsaw puzzles are brilliant for passing lots of time and keeping those observation skills on pointe. Depending on the size, they can take hours, days or even weeks!
All kids love a treasure hunt! Scavenger hunts can take many different forms. The simplest is to hide progressive clues around the house, leading to some kind of prize.
Be a Quizmaster and make up your own quiz questions or get fun quizzes on kids movies, science, music and more at Know A Lot.
Magic tricks can be easily performed with objects found around the home – cups, cards, coins, that kind of thing. Check out 5 Easy Tricks Kids can Do for tricks that kids can teach themselves and ABRACADABRA – they'll have a magic show to perform!
Imaginative Play Activities for Kids at Home

Make a cubby house. Building a den using cardboard boxes blankets can keep kids entertained for ages. It can be anything they want too – a shop, police station, salon, clubhouse, restaurant… the only limit is their imagination.
Put on a show! One of the most simple and fun indoor activities for kids  is to raid the dress up box and put on a fashion show or play.
You can't head to a café or park – so bring one to you! Throw down a picnic rug on the floor and enjoy a tasty indoor picnic for lunch. Or why not get your best clothes on and enjoy a fancy tea party. Raid your party supplies. The kids will love decorating the house with balloons and streamers!
Movement Activities for Kids
Crank the radio or Spotify playlist and have a family dance off. Alternatively, action dances like are lots of fun or teach your kids the moves to some classics like the Macarena and Time-warp!
Try indoor bowling – all you need is a tennis ball, upturned plastic cups and a hallway – you'll be hitting strikes in no time.
If you have a bag of balloons, good news – balloon games are lots of fun and SO easy! Use a balloon for indoor volleyball, a game of "don't touch the ground", or even put one between your knees for a hilarious waddle race!
Kids love to dance! Dim the lights and turn up the beats! If the kids want to lean some cool new moves Saskia's Dansschool has lots of easy to follow choreography and routine videos.
Daily exercise is so important and you don't want to to feel like a chore Go Noodle and Zumba with Dovydas both have lots of fun and easy exercise sessions on their You Tube channels.
Movement games like Twister are a lot of fun. Also, movement base console games, like wii sports or dance help to keep kids moving.
Get old school with dominoes, marbles or a yoyo. There are lots of You Tube tutorials to get tips how to play and perfect tricks.
Or have and egg and spoon race! It's probably NOT the best idea to use real eggs – but ping pong balls should do the trick.
Kids can make their own activity dice. Add 6 fun exercises and roll for random movements.
Hold a mini indoor Olympics. Have a burpee, plank, sit up or push up competition. Or make an obstacle course! Kids could even make their own medals.
With all that energy, a little yoga and meditation could be beneficial for restoring calmness. Check out Cosmic Kids Yoga, for easy to follow videos.
Chores and Helping Around the House
Cleaning bedrooms is an obvious chore that children can help with. Turning it into a fun game or adding an incentive can help their willingness to do a good job.
Not all chores have to be boring. If you have enough pantry supplies, you can enjoy baking with your little Chefs. From a packet cake mix, to simple pancakes, there's usually something yummy that kids can help cook in the kitchen. Getting them to help with peeling veggies is handy at mealtimes too.
And last of all – Nothing. Because boredom is ok sometimes. Simply let them have some time out in their room and entertain themselves with toys, Lego, books and more.
Have we missed your favourite indoor activity for kids at home? Let us know in the comments below!
Want to plan things to do in Perth, when your family can leave the house?! Find lots of ideas here.